Kids Registration link
https://bit.ly/3DyUCO2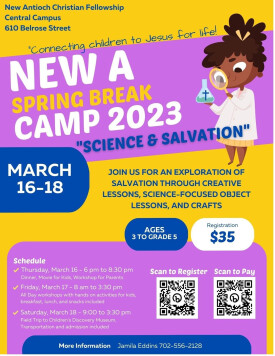 Teen Registration Link
https://bit.ly/sbteen23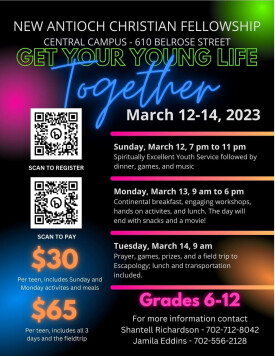 Each year for spring break, our Senior Pastor, and all our kids and youth Directors at our 3 campuses, pour into our youth with week-long events for our youth 3yrs old to 12th grade. The first half of the week is dedicated to our youth 6th-12th grade and then end of the week with our kids 3yrs old to 5th grade. Register below and join us!
Register your kids 3 years old to 5th grade here
Register your youth 6th-12 grade here
This years' spring break is March 12-17, 2023
March 12-14 for youth grades 6-12 ($65). March 16-18 for kids ages 3 to grade 5 ($35). Food, fun, classes, and a field trip for both groups. Join us for Spring Break @New A!